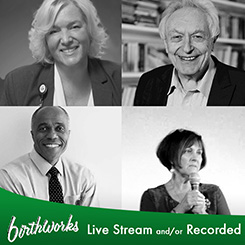 Peace In Birth Conference
Filmed in Mt. Dora, Florida.
Get world class education from the comfort of your own home. Sign up to get 12 sessions of keynotes, workshops and forums (Total of 11.5 Contact Hours for MEAC and ACNM).
You will receive all keynotes (Dr. Michel Odent, Nancy Wainer, Dr. Lewis Mehl-Madrona, Dr. Amber Price and Dr. Brad Bootstaylor) as well as 4 predetermined workshops by Dr. Brad Bootstaylor, Cathy Daub, Dr. Amber Price, Dr. Jane Houston partnered with Cindy Nelly and Cindy Williams.
Please note, in order to get a CEU certificate, each online participant must answer successfully short quizzes on each session.
Take this Course
Course Content