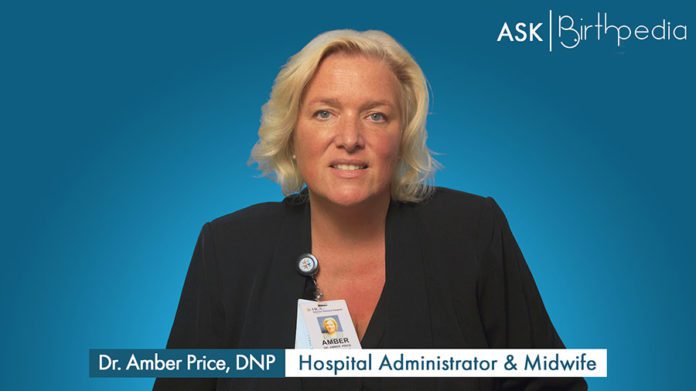 written by Dr. Amber Price 
10. Make Your Birth Plan Short and Specific
A three-page birth plan is not as effective as a short one with three to five bullets on things that are most important to you. Be specific. If you are afraid of something, it should be mentioned (needles, tearing, surgery, IV, epidural) so staff can spend more time on these things. Talk about your goals, and what is most important to you during your birth. Review it with your provider. Bring three copies. 
9. Take a Tour 
Tours are a great way to get answers about the birth culture of the hospital. If there is a private tour, ask for one. Come prepared with questions. Chances are that others on the tour are wondering the same things you are. Ask about specific policies, such as eating, monitoring, visitors, and nursery routines. Look at showers and tubs, ask to see wireless monitors, and ask to see birth balls, birth stools and other tools available to you during birth. 
8. Learn the Language of Birth
Read and watch positive birth stories, take a childbirth class that reviews birth interventions in detail, and have at least one great comprehensive resource with you in labor so you can look things up when you are unsure. If you do not understand something, ask for staff to explain it again. Hospital staff uses lots of abbreviations and it is ok to ask them to explain those. It is ok to ask for time to make a decision. 
7. Read Consent Forms Before Signing Them
There are a lot of consent forms to sign from admission consents, vaginal delivery, blood, C-section consents, to baby consents for vaccines or circumcision. Take a moment to read them, and ask questions when something worries you. Accepting blood, allowing photography and students are all examples of things that are up to you. Your rights as a patient are protected, and you may refuse procedures and intervention at any time. 
6. Talk to a Doula
Hiring a doula is a great idea since they speak the language of birth and are experts at giving support to laboring women. Using a doula is associated with a lower C-section rate, and a more positive birth experience. Even if you don't plan on having a doula at your birth, they are great to talk to, and are a wealth of information. They attend births in every hospital and can tell you what you should prepare for to give birth in your chosen hospital. 
5. Work Through Your Fears
Fear is the enemy of normal labor. When you are very afraid, labor can slow down and your judgment may be clouded. Work through big fears well before you get to the hospital. Talking to other women who have given birth helps. If you have a significant phobia, such as a fear of needles, it can be all you can think about, and even prevent you from focusing on other important things to prepare for. Ask someone for help. There are many specialists who can quickly help people conquer their fears. If your fear is of something that might happen in the hospital, talk about it in your birth plan, with your provider, and with your partner and support team. 
4. Be Aware of Red Flags
If your hospital does not offer hydrotherapy, birth balls, birth stools, midwifery or wireless monitoring, the chances of having a low intervention birth is low. An excessive use of the terms 'allow' 'must', and 'can't' during tours and prenatal visits may suggest that the hospital or your provider do not welcome birth plans, doulas, or your input in the birth process. 
3. Research the Hospital's Outcomes
There are several organizations that publish hospital safety data. Leapfrog Group is one reputable website that reports hospital safety ratings. C-section rates are also publicly reported, but the most important factor in your C-section risk is the skill and philosophy of the person taking care of you.
2. Find Out Who Covers When Your Provider is Not Available
While it is great to have the person who took care of you during pregnancy with you at your birth, it is more important to go into labor on your own, let labor progress normally, and to be given time to labor, than to have your preferred provider present. Scheduling your birth just so your doctor can be there could increase your chance for a C-section. The question to ask is who covers for your doctor, and if that person will be as supportive of your birth wishes as they are. If you have an opportunity to meet them, try to do that during your pregnancy. 
1. Hire the Right Type of Provider for Your Birth 
If you have your heart set on a low intervention birth, hire an expert in that type of birth. There is a difference between being supportive of a low intervention birth, which doctors often interpret as not getting an epidural, and facilitating a low intervention birth. Midwives actively promote low intervention birth, and work with you to reach that goal. If you have a high-risk pregnancy, or have a serious medical condition, be sure to hire a doctor who is an expert in managing your specific condition, or your baby's condition. 
Dr. Price is a contributor with Birthpedia! Watch her videos where she answers more questions about giving birth in the hospital here.
While serving as Vice President at The Women's Hospital at Henrico Doctors', Amber drove important innovative change initiatives that had impact on a national level, including a 27% reduction in cesarean rates, implementation of a collaborative MD/CNM hospitalist program, and adopting an RMC platform in her hospital. In 2018 she was published in "Nobody Told Me about That", a guide to the first six weeks postpartum. Amber currently serves as Chief Operating Officer of Tristar Centennial Women's and Children's hospital. She is the author of numerous articles, and a speaker on consent practices and clinical innovation. Amber works within her organization and on a national level to improve access to respectful care for all women.